Due to its incredible success around the world, Game of Thrones has turned many actors into A-List celebrities. One of such actors is Sophie Turner who played Sansa Stark in the television show. Sophie was just 14 when she started filming for Game of Thrones. Today, she has a promising career ahead of her, starring in Hollywood blockbusters like the 2019 Dark Phoenix.
You may be a big fan of Game of Thrones but we are willing to bet that there are some things you don't know about the stunning actress.
1. Sophie Turner was meant to be a twin. Her mother was pregnant with her and another child who died due to a miscarriage. This event impacted Sophie's life to an extent. She has admitted that she draws inspiration from the event during her emotional scenes. My mum had a miscarriage – my twin died and I lived," Turner said. "That definitely affected me in terms of I always felt as though… something was missing. I have two older brothers who are close in age and I always felt as though I needed someone or should have had someone there." 
2. Though Sophie now enjoys a glamorous life as a celebrity, she rose from humble beginnings. She was born into a working-class family comprising a mother who teaches at a nursery school and a father who worked for a pallet distribution company.
3. Sophie spent her childhood in the English countryside which has a topography covered with mud. As a result, she was well prepared for the set of Game of Thrones which also entailed walking through a lot of mud.  "My childhood was pretty fun," Turner said in an interview. "Knowing your way around some mud was certainly useful for House Stark."
4. When Game of Thrones selected Sophie Turner to play Sansa Stark of House Stark, she was still in High School. This didn't stop her from keeping up with her school work. Like other co-stars within her age range, she had someone tutor her while she was on set. By the time her final exams came, she came out with an excellent result, bagging 5 As and a few Bs.
5. Even though she didn't star in any film prior to Game of Thrones, she had always been drawn to acting. At the age of three, she joined the Playbox Theatre Company, a prestigious theatre company in the United Kingdom.
6.Thanks to her drama teacher, Sophie got to audition for Game of Thrones and eventually landed the role of Sansa Stark. She recounted to the Hollywood Reporter how her drama teacher "just threw in me with a bunch of my other friends and we all auditioned together" when the GOT casting scouts came to her school. After she got selected, her mother broke the good news to her.  "My mom woke me up one morning and was like, 'Good morning, Sansa,'" she recalled. "I woke up and was like, [in disbelief] 'No!!!' and just started crying. It was a really good day."
READ ALSO: Peter Dinklage: 10 Interesting Facts About The Game of Throne's Star
7. Sophie Turner is naturally a blonde but she had to dye her hair red for GOT. The look appears to have come to stay as she also had to dye her hair red for her performance in silver screen debut in X-Men. She told Elle Magazine that she feels more confident  with her natural blonde hair. By the start of season 7, Sophie started wearing a wig instead of dyeing her hair.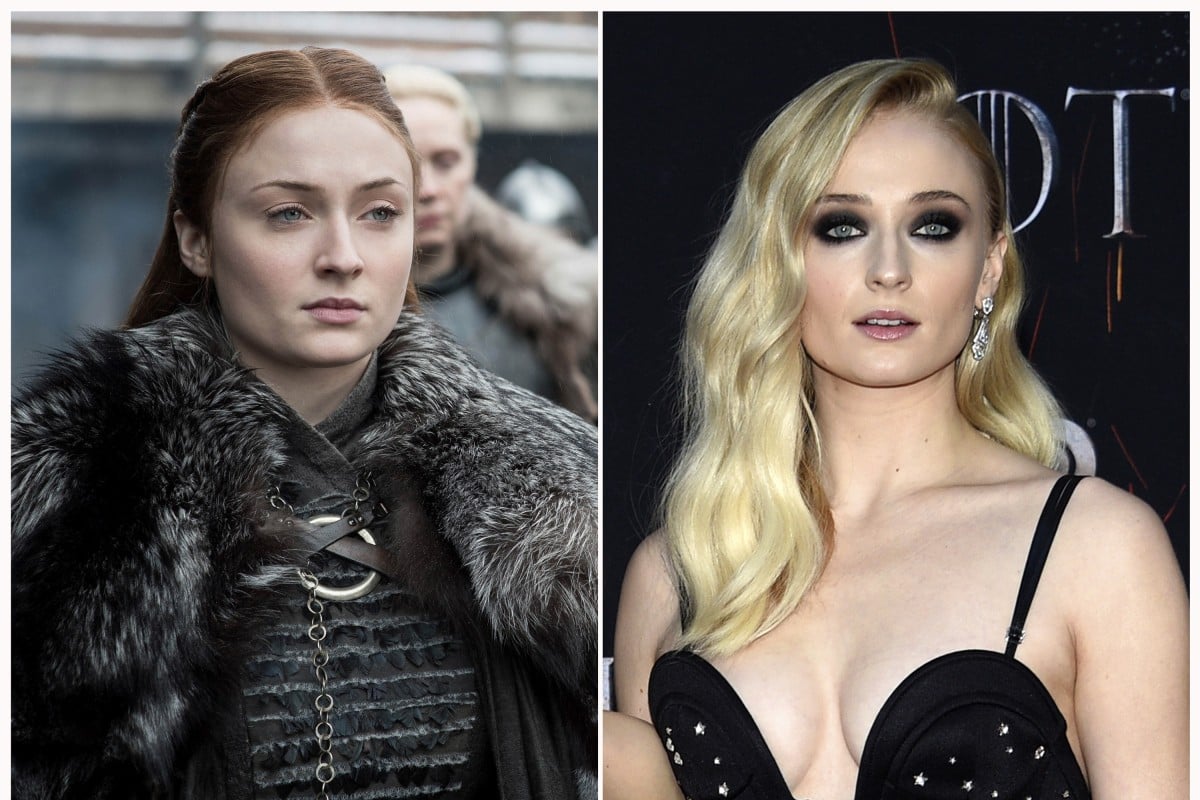 8. She has a very unusual phobia. "I have a phobia of walking over drains—it freaks me out. I don't know what it is, but I get so nervous whenever I see one. She told Instyle. "Someone once told me to say the word 'onions' when I walk over one and it will reverse the curse. So now I say it every time. I guess it's a superstition thing, but it helps."
9. Besides acting, Sophie is also a model. She models for Karen Millen, a United Kingdom clothing line.
10. Her and her GOT co-star Maisie Williams are besties in real life. In fact, Maisie was a bridesmaid at her wedding.