There was a mild drama between Simi and Twitter Influencer Mazi Ibe on Thursday night, December 27, 2019.
It all started when Simi confronted Mazi Ibe over tweets he posted about her.
Mazi Ibe who had his Twitter accounts suspended on Twitter after two years has trolled Simi several times in the past. He was finally able to see her tweets and went back to throwing jabs at her.
In one of his tweets, Mazi made reference to the incidence between Simi and Naira Marley which happened earlier in the year.
He tweeted: "Simi and EFCC. The greatest influencers of the year 2019. They gave us Marley.
"Deep down simi's heart she for wan turn marlian but let me not talk," he also retweeted.
This got Simi upset and she fired back at him.
She wrote: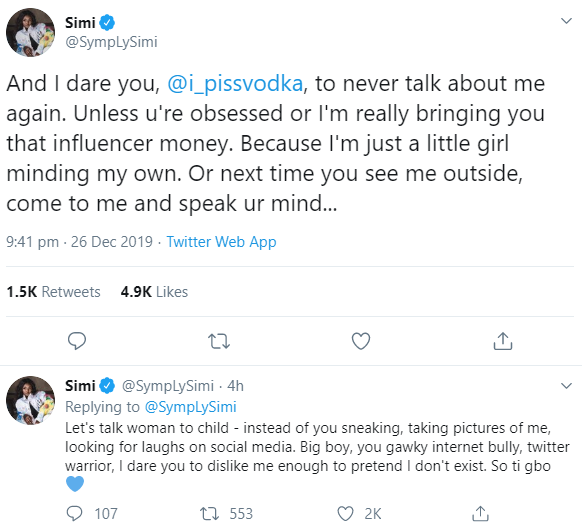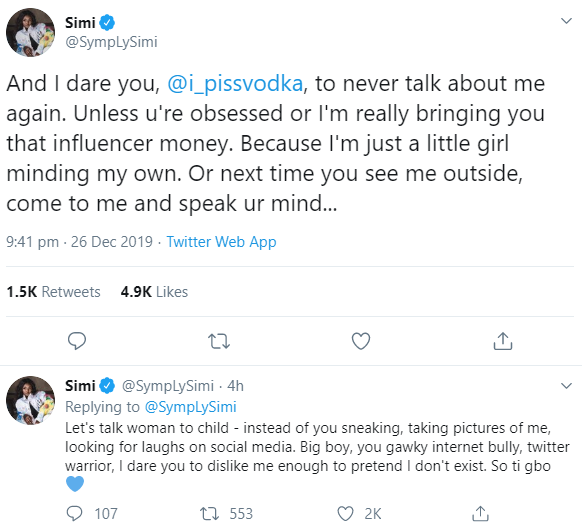 She also tweeted: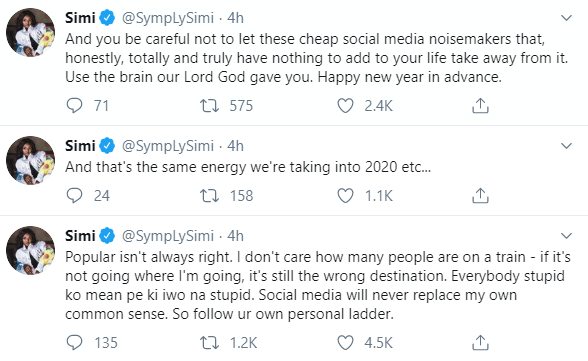 Mazi later reacted, writing: "Nothing was said out of hate or to bully. I was legit shocked when I saw her tweet & not the link I used to see. Quoted it exactly as it came into my mind. I'm genuinely sorry if offended you Simi in any way. E ma binu."
"I don't understand the sneak and take pictures of you part sha. Either ways, I apologize. E je ebure."  He concluded.
There are lots of reactions from Twitter users throughout the whole saga. Some supported Mazi while others are dissing him for trolling Simi. With that being said, we hope you enjoyed what has transpired between them. Thanks for reading.